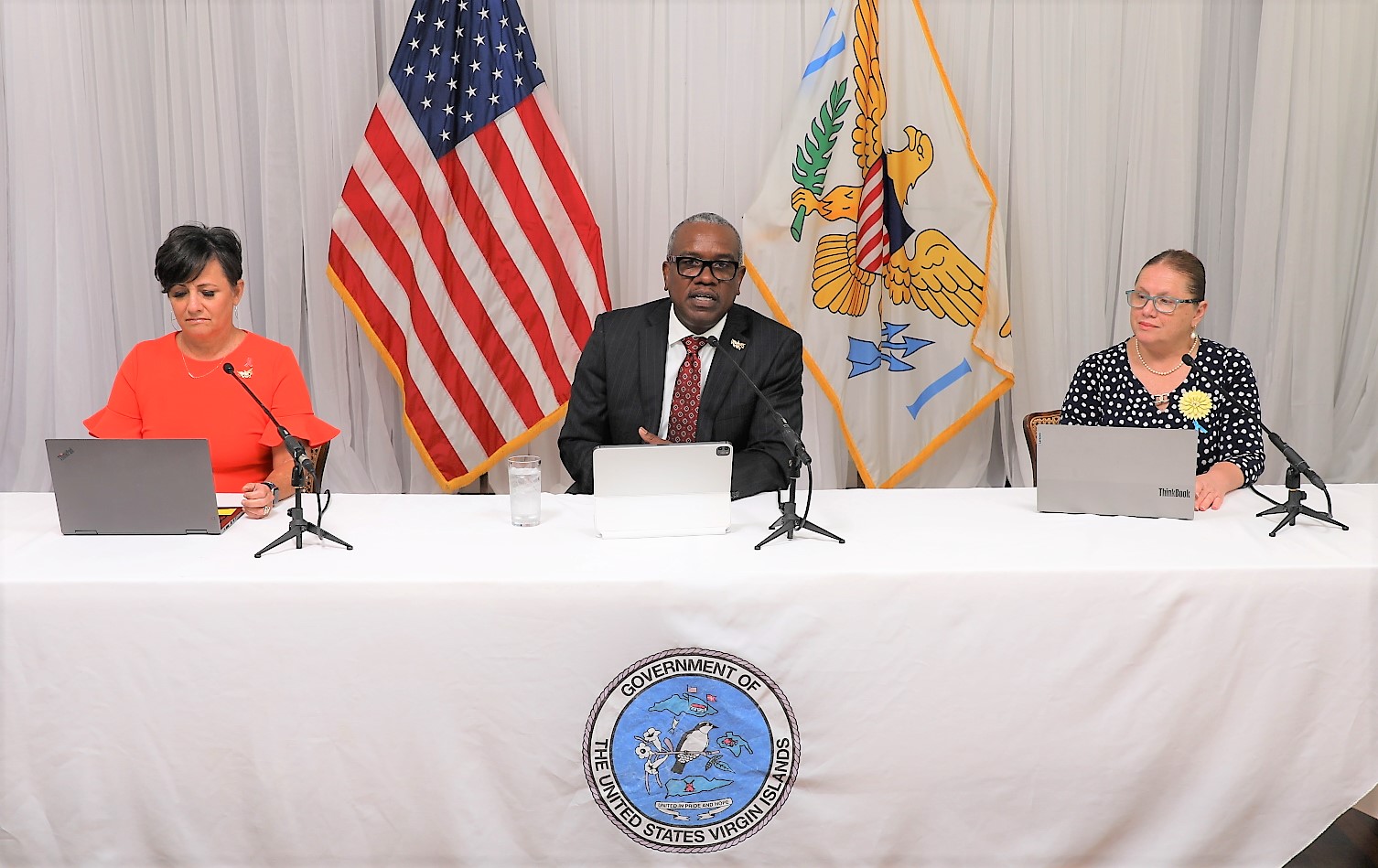 Human Services Commissioner Kimberley Causey-Gomez provides details about 2022 summer Pandemic EBT payments
U.S. VIRGIN ISLANDS — During Tuesday's weekly briefing, Governor Albert Bryan Jr. welcomed a new class of V.I. Police Department and law enforcement St. Croix graduates following a ceremony Tuesday morning at D.C. Canegata Recreational Center.
The Governor congratulated the 18 new law enforcement officer on St. Croix and their families for their service and wished them all long, safe, and successful career. He also congratulated the VIPD on its recruitment initiatives and efforts to grow and expand its ranks.
"It was a really good ceremony where I reminded all of the law enforcement officers that graduated that even if they are not in VIPD, they are law enforcement officers, and it will take all of us to make sure that crime decreases in our Territory," Governor Bryan said. "I also reminded then that they took that oath to uphold the Constitution and laws of the United States as applicable to the Virgin Islands and the Virgin Islands Code.
"That's something that I take when I'm inaugurated. I want them all to remember that as citizens in this community, they are here to serve and protect us, just like I am," the Governor said. "They must continue to do so in a manner that's respectful, and we must return the same to them."
2022 P-EBT   
Human Services Commissioner Kimberley Causey-Gomez announced that the agency is distributing the summer 2022 Pandemic Emergency Benefit Transfer (P-EBT) funds provided by the federal government through the America Cares Act.
The Commissioner said that Human Services has distributed about $29 million since the funds first became available in 2020, and she said her department loaded the P-EBT cards of eligible recipients on Tuesday with about $5.6 million in federal funds the Territory received for summer 2022.
The money is issued through the USVI's SNAP EBT card system and are for students who were enrolled in all public, private and parochial schools during the last month of the 2022 school year that participated in the National School Lunch Program.
This latest distribution of P-EBT funds is a one-time payment of $455, and is available to K-12 students who were engaged in in-person, virtual or hybrid learning in May 2022, according to Commissioner Causey-Gomez.
Residents who have problems with their cards or receiving payments, can contact Human Services at 340-772-7120 or [email protected] with the subject line "P-EBT."
VI-PR Friendship Celebrations
Governor Bryan also thanked the VI-PR Friendship Committee for all their tireless work in putting on the activities last weekend in celebration of VI-PR Friendship Day.
"It was an honor to host the community at Government House in St. Croix this past Wednesday, and it was a special privilege to share in the moment with the honorees of this year's celebration," Governor Bryan said, thanking Khnuma Simmonds and Joseph Almeda again for their continued contributions to the community.
The Governor said the VI-PR Friendship Village over the weekend was an unqualified success and a boon to the long-standing relationship between the two island territories.
"People had a great time. They came out and showed their support for a long-lasting friendship with Puerto Rico that has really enriched the fabric of our culture and especially our food and our dancing," Governor Bryan said. "The Friendship Village this year was a tremendous success. I want to thank the vendors for participating and, of course, the community for coming out and patronizing our local vendors and supporting the VI-PR  Friendship Committee."
SHE Women's Empowerment Summit
The SHE Women's Empowerment Summit took place on St. Thomas on October 7, and a similar event is scheduled to take place October 14 at the Castle on St. Croix.
"It was a colossal event in a way that is honestly difficult to explain," Health Commissioner Justa Encarnacion said after giving the COVID-19 report. "The attendees walked away with pearls to share and grow within."
For more information, go to shewomenssummit.mystrikingly.com, and the even will be livestreamed on the Government House page at facebook.com/GovernmentHouseUSVI.
Monkeypox
Health Commissioner Justa Encarnacion said the Territory still has no confirmed cases of Monkeypox.
To learn more about being eligible for a free monkeypox vaccination, call 340-774-9000 ext. 4663.
For more information about monkeypox, use the "Communicable Disease" tab on the Department of Health website at doh.vi.gov.
COVID-19 cases as of October 11
Currently tracking 42 active cases (29 STX; 12 STT; 1 STJ)
There is 1 COVID-19 patient hospitalized at Luis Hospital on St. Croix.
There are 4 COVID-19 patients hospitalized at Schneider Regional Medical Center on St. Thomas.
COVID-19 vaccinations
COVID-19 vaccinations are available by scheduling an appointment:
St. Croix – 340-244-0016
St. Thomas – 340-777-8804 ext. 2600
St. John – 340-776-6400
COVID-19 Testing
The schedule is as follows:
St. Croix – Monday through Friday, 9:30 a.m. to 10:30 a.m. in the Charles Harwood Memorial parking lot
St. Thomas – Monday, Tuesday, Thursday, and Friday – 9:30 a.m. to 10:30 a.m. at the Schneider Regional Medical Center loading dock
St. John – Wednesday from noon to 3 p.m. 
More COVID-19 Information
Anyone who thinks they may have contracted COVID-19 can call the Epidemiology hotline at 340-712-6299 (STX) or 340-776-1519 (STT-STJ). For more information, visit covid19usvi.com.
The Bryan-Roach Administration is investing in the Territory's people, infrastructure and future through transparency, stabilizing the economy, restoring trust in the government and ensuring that recovery projects are completed as quickly as possible. Visit transparency.vi.gov